10 Kitchen Projects Perfect for Tight Budgets
Don't have a lot of time and even less money? Don't worry! DIY project don't have to be time-consuming and expensive, as we will demonstrate with these 10 kitchen upgrades perfect for limited budgets.
Mix and Match Countertops
Just because your kitchen has multiple countertops, it doesn't mean they all have to match! Wooden countertops are reasonably priced, quick and easy to install, and add a lot of character to the room. Start with a standalone preparation area and go from there.
Install a Tin Tile Backsplash
Good quality ceramic tiling is expensive and beyond the budgets of many. However, tin tiles are lightweight and incredibly cost-effective. They also have advantages over ceramic tiles: they're lightweight, are reflective which will brighten up the room, and come in a variety of finishes to match your kitchen's existing fixtures.
Use All Wall Space Wisely
Running low on storage space? Installing wooden cabinets can be incredibly costly and it may be difficult to find materials to match your existing cabinets. However, installing shelving on the walls is cost-effective, modern, and easy. Place large items on shelves, especially decorative crockery and hardware.
Change the Taps
Installing a new tap could just add the extra shine your kitchen so desperately needs. Compared to old taps, new ones boast a lot more functionality so the change may not be purely aesthetic. If you're new to plumbing, this is a good first project to get your hands wet – so to speak. Just remember to turn off the water valves before getting started!
Try a Mosaic Backsplash
Doing a traditional mosaic can be incredibly time-consuming and pricey – so why not try out a peel 'n stick mosaic tile kit instead? The kit comes with everything you'll need and are available in a wide range of colours to perfectly suit your existing colour scheme.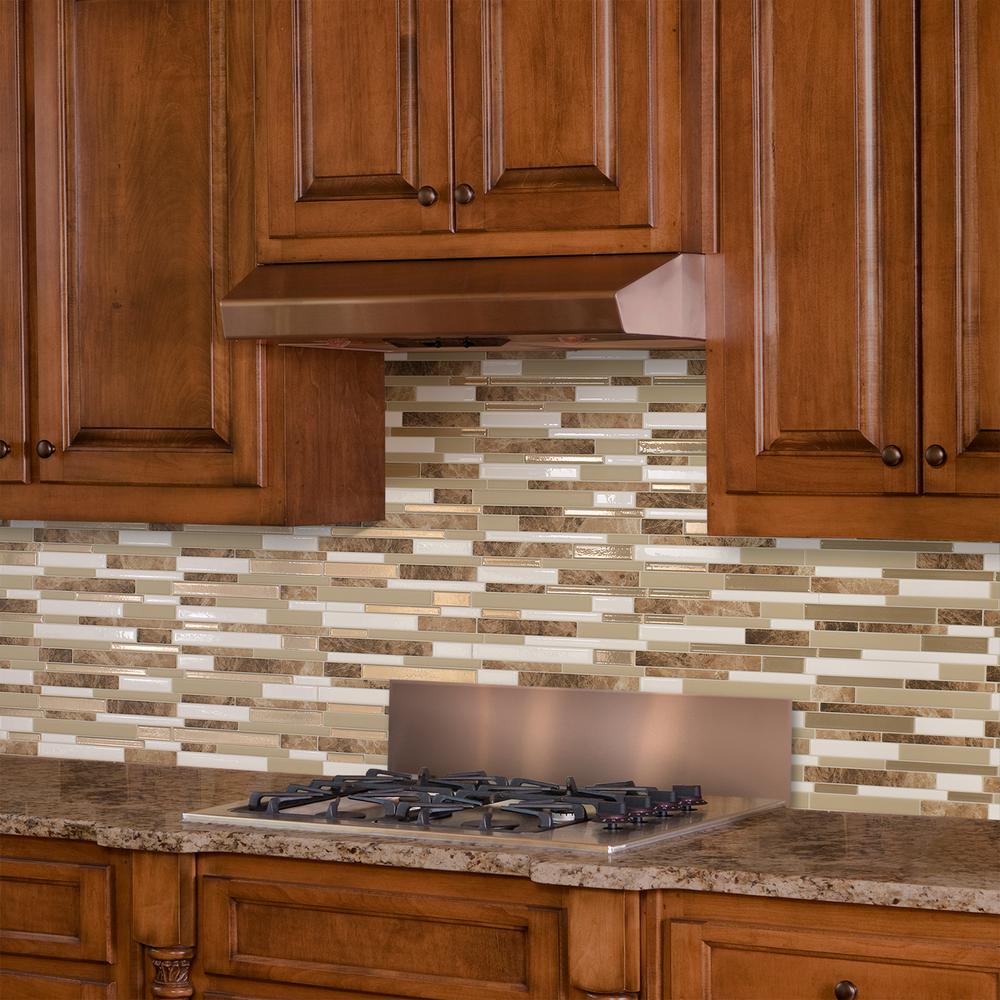 Expose the Walls
If you're redesigning your entire kitchen on a budget, installing exposed shelving as opposed to traditional cabinets will open up the room thanks to being able to see the walls and will also save you a lot on expensive carpentry. Get creative!
Incorporate Furniture Wisely
If the size of your kitchen allows for it, you can upcycle old furniture to change up the room's look. Have an old side table taking up space in another room? Why not add wheels and a countertop such as natural stone or a butcher's block and turn it into a floating island?
Install a Pot Rack
Pots and pans take up a lot of cupboard space and lifting heavy pots from low cabinets can do a real number on your back. Consider installing a rack suspended from the ceiling, complete with hooks on which to hang your pots and pans. It will free up some cupboard space and make your kitchen look modern and stylish.
Create a Concrete Island
Making a concrete countertop is not necessarily a very expensive or difficult DIY project, but it can be time-consuming. It's a good idea to start on small scale with an island or small cooking area – concrete's durability makes it the perfect accompaniment to cooking areas.
Change the Doorknobs
Tired of your old cabinets? While replacing them is costly, replacing the knobs and pulls could be just what your old cabinets need. We suggest finding hardware that is the same size as existing knobs and pulls so you don't have to re-drill any holes.