Beach Activities for Everyone
Not everyone loves the beach, but that might just be because they have previously found it a bit boring… There. I said it. Lying in the sun for hours on end or splashing in the waves isn't for everyone and a lot of us would rather be relaxing on the couch checking out the latest NRL Premiership odds instead. That's why I've compiled these beach activities so that you can see that there's so much more to do than just getting sunburnt and having sand in your shorts!
Volleyball
If you're active and enjoy ball sports, why not try a bit of beach volleyball? It's the quintessential sand, sea and sun sport, and it can be great fun too. You can divide yourself in to teams and play against friends, or you can play 1 on 1 if you prefer. If you've got kids you can always lower the net a bit and let them join in the fun.
Frisbee
Another sport that really only requires 2 people, Frisbee is fun and gets the blood pumping. See who can throw it the furthest, who can pull off the most insane catch or how long you can keep a volley going and you'll find out why so many people love the beach.
Sandcastle Competitions
I'm not talking about making 2 mounds and a moat; I'm talking about building real castles with sand. See who can make the most intricate, involved castle and hold a competition. The winner gets to flood the loser's creations with seawater!
Sand Sculptures
Of course you don't have to stop at castles. Unleash your creativity and see if you can build a sand sculpture or two. You can get your kids involved and create a huge artwork in the sand, or you can try building your own designs and comparing them.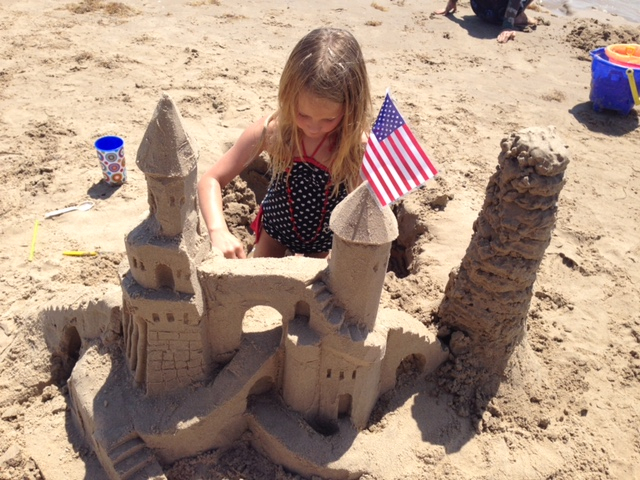 Bury Each Other
If you don't have kids you may have forgotten how much fun this can be. If you're amenable to getting sand in everything, volunteer to be the one being buried, and if you prefer doing the burying get set for some fun. You can also give your buried friend some fun features, like giant feet made out of sand, or wings, so let those creative juices flow – and don't forget to take photos.
Rock Pool Hunting
If you love bugs and al kinds of creatures, go and explore the rock pools. These are often teeming with life, and it can be quite an adventure to see what is in them. You can spend hours watching anemones or trying to catch small fish, and if you're adventurous you can always pick mussels and cook tem later.
Go Fishing
Before you do this, make sure that it is allowed! If you can fish and don't have rods you can always use a hand line – and you never know what you might catch. If you manage to reel in supper, a beachside BBQ is always a great idea, but again, make sure that it is permitted just to be safe!